About Webmaster Vault
So you want to know a little bit more about good ol' WebmasterVault.com...
Originally founded in late 2000, WebmasterVault was born to fill a need in what we felt was a quickly booming industry. We had been running a network of freesites for a couple years at that point and were always looking to the search engines for whatever we needed at the time. After a while we decided that there needed to be one easy to navigate site with all the information in one place for you to find, and thus WebmasterVault was created.
At the time there were a couple other Adult Webmaster Resource sites available, but none really catered to our needs exactly. We felt that as well as resource listings there should be a continuous update of news and information. Especially in the adult business where there is no real go-to source for the latest happenings; which is important in the adult industry and the online industry, both of which are fast paced and quickly changing. We started out by writing our own news, finding stuff from the mainstream media, as well as the latest happenings from the various adult industry message boards. Since then have added on some great wrtiers and are always looking to bring new insight to the news team.
We kept growing and expanding and in 2005 we decided to overhaul everything. In a daunting process that took hundreds of hours we decided to list every affiliate program and the paysites each offers for promotion. Since then we've amassed a database of over 6000 adult paysites and the programs that they associate to.
We're constantly growing, changing, and adding new things that we feel are helpful and useful to adult webmasters. We welcome you to leave us comments and suggestions in what you'd like to see in a webmaster resource site. Stay tuned as with our new look and layout we launched in early 2008, we're also bringing you some exciting new tools that haven't been seen on any other resource sites to date!
WebmasterVault in 2000, the beginning.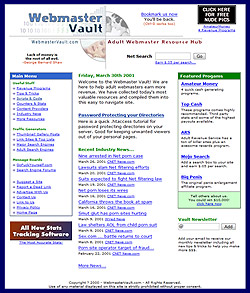 Our First Redesign in 2002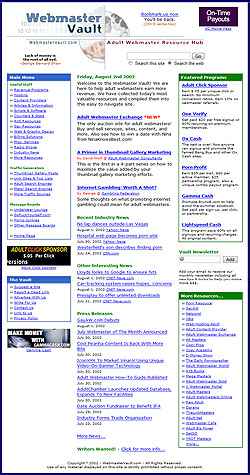 We went for a change again in late 2003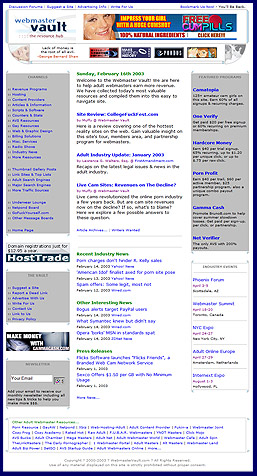 Then a major overhaul in late 2005 - early 2006