Bad Females Paysite Review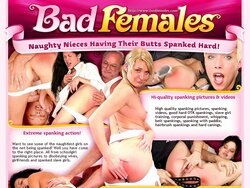 These chicks are not the typical ones you see online. They are seriously naughty and they will do anything just to get the kind of rush they are looking for. It's a good thing these horny and strict disciplinarians are here to show them what the consequences are for being so wild and naughty. They need to bend over, pull down their panties and get their asses ready for a nonstop spanking. Bad Females shows you their wild side as they commit different mistakes and end up with swollen buns. They love every minute of their sexual torments and in fact, you'll often hear them begging for more. Their butts are pinkish, sore and swollen, but they won't stop until they are totally satisfied. Catch them all here on this site as they let you hear their sexy voices moaning in pain and pleasure. Get all of these kinky encounters only Bad Females.
Visit Bad Females
WebmasterVault Rankings
Quality Rank:
n/a
Popularity Rank:
10.0
Overall Ranking:
5.0
Program: Spanking Dollars - To see what promo materials, payment options, and other sites they offer visit our detailed Spanking Dollars review.
Post Your Comments