Boys Boarding School Paysite Review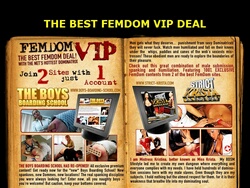 These kinky dudes want to commit mistakes just so they can be punished by these strict and sexy Mistresses. They are ready to face the consequences as they know they will surely enjoy it. Their pants are on the floor, their boxers are pulled down and they are ready to bend over to experience something that will give them the rush. Boys Boarding School shows you steamy videos and photos of how they get to be so naughty just so they can have a one-on-one time with these arousing Mistresses. They don't care if they end up with swollen buns because this is what they want and they want to be handled rough and wild. You might thing they are not enjoying these sexual torments, but in reality, they can't live without seeing their asses turning pinkish and swelling with sores. Boys Boarding School reveals kinky BDSM inside these private houses.
Visit Boys Boarding School
WebmasterVault Rankings
Quality Rank:
n/a
Popularity Rank:
10.0
Overall Ranking:
5.0
Program: Spanking Dollars - To see what promo materials, payment options, and other sites they offer visit our detailed Spanking Dollars review.
Reader Comments: (2 posts)
Zeeshan says:
Thanks for sharing eelnlcext informations. Your website is very cool. I am impressed by the details that you've on this site. It reveals how nicely you understand this subject. Bookmarked this web page, will come back for extra articles. You, my friend, ROCK! I found just the info I already searched all over the place and simply could not come across. What a perfect site.
August 22nd, 2012
at 5:30am EST
Rating:
Pepper says:
Boy that relaly helps me the heck out.
August 13th, 2011
at 6:28am EST
Rating:
Post Your Comments