Spanking Online Paysite Review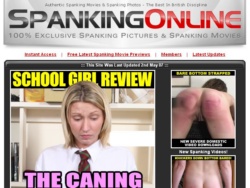 If you think that these naughty chicks don't like getting spanked then you are sadly mistaken. Yes, they are out of control and yes, they do love to do things that are not right, but that is part of their genetic codes and you all just have to accept that fact that they are kinky women who won't follow any rules just so they can satisfy their sexual desires. But don't worry, because Spanking Online is here to show you what these chicks suffer every time they commit something naughty. They need to understand that every time they commit a sin, they need to take off their panties, bend over and expose their sweet asses. Once everything is done, they need to prepare for some serious whipping whether with a sturdy stick, a leather belt or a shoe. These disciplinarians won't stop until they see their asses turn pink. See it all on Spanking Online.
Visit Spanking Online
WebmasterVault Rankings
Quality Rank:
8.3
Popularity Rank:
10.0
Overall Ranking:
9.2

Site Quality Rankings
Rabbits Reviews:
83
Program: Spank Buxx - To see what promo materials, payment options, and other sites they offer visit our detailed Spank Buxx review.
Post Your Comments