Women Who Punish Paysite Review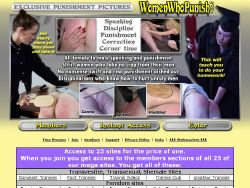 Some men enjoy a little erotica when it comes to females being dominant over them. They like to perform submission as these tough ladies control them, punish them and teach them lessons before they can fuck their pussies. Watch as these hot women incorporate punishment and pleasure together, giving their sex partners a swelling tushy and a slobbering mouth. These dominant ladies are changing into sexy clothes, silky stockings, jeweled lingerie and sexy panties to entice their submissives and tease them. Women Who Punish is not a brutal site but it only showcase dominant hotties who like to give their partners a little spanking before they can have their delicious pussies. Watch these mature babes whip out their tools in punishing these naughty fuckers, slap their butts until it turn red and sore. After that, these dominant chicks spread their pussies and spurt cum all over their horny submissives. Watch it all here on Women Who Punish.
Visit Women Who Punish
WebmasterVault Rankings
Quality Rank:
7.4
Popularity Rank:
10.0
Overall Ranking:
8.7

Site Quality Rankings
Rabbits Reviews:
79
The Best Porn:
68.5
Program: Fetish Affiliates - To see what promo materials, payment options, and other sites they offer visit our detailed Fetish Affiliates review.
Reader Comments: (2 posts)
Jumana says:
????CK, just out of curiosity, I'm wonidreng as a boss if you would prefer (to hire, work with, and promote) a sophisticated subordinate who has high abilities or a very loyal one who is so-so in all aspects?
November 26th, 2015
at 10:43am EST
Rating:
Ayaulym says:
but the attitude s/he is shwniog to others. From my observation, many girls/women can't really show what they mean in a nice way. And, actually, quite a number of them think that they've a need to express their feelings directly without any disguise.I think that there's a need to have good manner in both personal and work life. However, being blunt may probably be the nature of women...
November 25th, 2015
at 8:49am EST
Rating:
Post Your Comments