Big Mouthfuls Paysite Review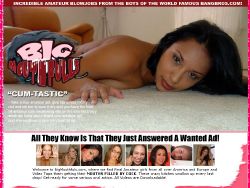 Wouldn't it be nice to find a hot bombshell down on her knees worshipping your cock by wrapping her soft lips around it? That is the ultimate fantasy of a lot of men but only a few gets to have it fulfilled. In this site Big Mouthfuls watch the hottest amateurs as they go all out just to prove that they can make a career in porn. Every week they invite a hot new amateur to be their main act for the week. And these amateurs aren't just the typical chicks who are desperate for cash, these babes can pretty much compete in a beauty pageant because they all have gorgeous faces and perfect criminal bodies that you would so love to try out in bed. You would be surprised at their behavior. Give them a rigid dong to put in their mouths and they'd be sucking like they were depraved. Catch them here on Big Mouthfuls!
Visit Big Mouthfuls
WebmasterVault Rankings
Quality Rank:
8.6
Popularity Rank:
10.0
Overall Ranking:
9.3

Site Quality Rankings
Rabbits Reviews:
91
The Best Porn:
79
Adult Site Surfer:
88




Program: BangBros Online - To see what promo materials, payment options, and other sites they offer visit our detailed BangBros Online review.
Reader Comments: (2 posts)
anwr says:
sex
August 6th, 2014
at 7:33pm EST
Rating:
Ramde says:
Ooh, outstanding. I knew Madison was doing some awmosee things but this is the first time I really focused on it. Oh yes yes yes. Can I say? How can it be that there are feminists and allies still blind to the fact that painting a stereotype of women in porn as degraded/coerced is really SEXIST? Thanks, just had to get that off my chest.
March 22nd, 2012
at 1:10am EST
Rating:
Post Your Comments