My First Bondage Paysite Review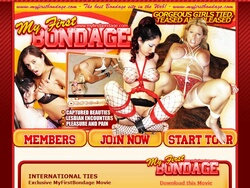 Everyone experiences something new and something hot for the very first time and because of these instances, it makes them addicted to it, making them long for it and craves for it. This is what exactly what's happening to horny people from My First Bondage. It features different individuals who are trying out a kinky way of experiencing sex through BDSM. Some of them are a little hesitant at first, but whenever whips and ropes touch their buns and their bodies, them simply can't get enough. In fact, you will hear most of them begging to get spanked in different areas of their bodies. They want to see them turning pinkish from nonstop spanking. See how these ladies wrap their bodies in bondages while feeling submissive and helpless. They game of BDSM has never been this hot especially with these kinds of ladies. See them playing rough and naughty on My First Bondage.
Visit My First Bondage
WebmasterVault Rankings
Quality Rank:
8.4
Popularity Rank:
10.0
Overall Ranking:
9.2

Site Quality Rankings
Adult Site Surfer:
84
Program: Spanking Dollars - To see what promo materials, payment options, and other sites they offer visit our detailed Spanking Dollars review.
Post Your Comments