Wrestling Fetish Paysite Review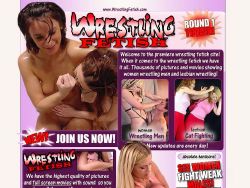 Not all fights would lead to bruises and scars, some are just an opening act before a romantic and a steamy fuck fest happens. Other people have this kind of fetish where they want to be cuddled in a rough way, almost like a wrestling kind of situation. They giving full energy, skin rubbing together while their muscles, arms and thigh crunching together, trying to inflict a little pain yet never forgetting to give some pleasure in return. Wrestling Fetish is where you will find hot babes wrestling with their lovers before sucking their cocks and before riding their stiff love poles. This site also features one on one wrestling match between two hot babes that ends up becoming a steamy lesbian fuck trip. Watch Wrestling Festish where opponents don't just fight, they also fuck each other. See hot female wrestlers crunching muscles before finally giving in and blowing the stud's hard cock.
Visit Wrestling Fetish
WebmasterVault Rankings
Quality Rank:
n/a
Popularity Rank:
10.0
Overall Ranking:
5.0
Program: Fetish Affiliates - To see what promo materials, payment options, and other sites they offer visit our detailed Fetish Affiliates review.
Post Your Comments