Gay Hentai XXX Paysite Review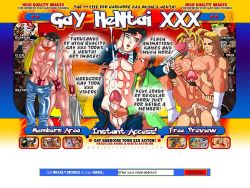 If you were once a sucker for video games and TV cartoons then you might have probably dreamed of these famous heroes and villains getting together and fucking each other. Do you really think that Ryu and Ken are best buds or do you think they share something more special than that? Of course they do, and that is why after their training, they shower together, blow on each other's strong and hung beef, suck it dry and shower in their own creamy jam. But it doesn't stop there because they also enjoy oral sex and receive a handful of meat chunk down their tight bunghole. Ryu loves to press his cock deep into Ken's tight blonde ass. Gay Hentai XXX shows you more anime characters having a really steamy and wet party. Now, you can stop imagining and start enjoying what you've always wanted to see. Gay Hentai XXX brings cartoons into reality.
Visit Gay Hentai XXX
WebmasterVault Rankings
Quality Rank:
n/a
Popularity Rank:
10.0
Overall Ranking:
5.0
Program: Top Bucks Gay - To see what promo materials, payment options, and other sites they offer visit our detailed Top Bucks Gay review.
Reader Comments: (3 posts)
Alma says:
Demand new brniefd This prceinss is there to mee free sex girls t her dictator charming! Hell, I'd acknowledge his little friend, just get any stout steed across here now! Pleasure is the business lover boy and you are in for ones treat in the world! Your dreams about sexual satisfaction will certainly all come true immediately after I get that critical for my ad! 42627
April 8th, 2015
at 1:42pm EST
Rating:
Sofiaa says:
To be hosnet the only good thing I see in these domains would be the promise of McAfee and the possibility of finding domain names that are now no longer available in any extension.
February 21st, 2012
at 2:53am EST
Rating:
jod says:
khjgbllhkh
February 25th, 2010
at 10:33am EST
Rating:
Post Your Comments