Bad Lesbian Girls Paysite Review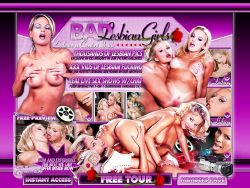 They say that all chicks have their naught side especially when they are in the company of other women. Just like any curious person, naughty babes try to extend their limits and see how far they would go for the sake of fun and excitement. Some curious babes even dwell into the lesbian world to know if being with another woman is what will make them totally happy. Bad Lesbian Girls display curious babes who are trying on lesbianism for the first time. See how they expand their pussies, stretching it with dildos and strap-ons, getting their pussies all wet with swirling tongues and poking fingers. They crave for bottomless love holes, their tongues pinning tight pussies until they are ready to squirt juice. Bad Lesbian Girls is where you will find pretty lesbos and horny babes getting together for the love of their pussies. There will be no mercy for tight pussies and sweet bungholes.
Visit Bad Lesbian Girls
WebmasterVault Rankings
Quality Rank:
n/a
Popularity Rank:
10.0
Overall Ranking:
5.0
Program: Fetish Hits - To see what promo materials, payment options, and other sites they offer visit our detailed Fetish Hits review.
Reader Comments: (6 posts)
Iwan says:
Dear Sophie, I am so pleased to wish you Merry Christmas and Happy Birthday. You are the sewteest Xmas gift for all lovers of female beauty and I cannot be thankful enough for watching you with your sexy girlfriends. My best wishes to you, My Marvellous Sweetie!
October 24th, 2012
at 4:16pm EST
Rating:
hosny says:
hot fucking
August 4th, 2010
at 2:53pm EST
Rating:
hosny says:
hot fucking
August 4th, 2010
at 2:53pm EST
Rating:
hosny says:
hot fucking
August 4th, 2010
at 2:52pm EST
Rating:
raja says:
just for play
May 14th, 2010
at 10:05am EST
Rating:
peter says:
i love bad girls
December 3rd, 2008
at 2:18pm EST
Rating:
Post Your Comments