Lesbian Exotic Paysite Review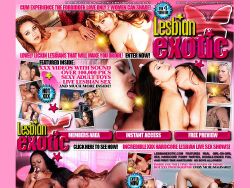 It's not every day you see two hot babes eating each other with their
thirsty mouths and hungry pussies. Then again, everyday is a holiday
here on Lesbian Exotic as dozens of beautiful hotties fuck each other
until their juices are licked and sucked to the last drop. Check out
their large tits and huge assess jiggling as their pussies explode in
cunnilingual ecstasy. From redheads and blondes to Caucasians and
Asians, Lesbian Exotic takes you in an ultimate lesbo ride that will
have you "coming" again and again. Check out the two hotties groping
each other's knobs and asses as they kiss torridly and finger each
other's pussies. Get to know the babes who poke each other with the help
of a dildo. And, of course, any lesbian shagging is not enough without
sexy chicks nibbling on each other's pussies in a 69 position.
Visit Lesbian Exotic
WebmasterVault Rankings
Quality Rank:
n/a
Popularity Rank:
10.0
Overall Ranking:
5.0
Program: Pimp Roll - To see what promo materials, payment options, and other sites they offer visit our detailed Pimp Roll review.
Reader Comments: (3 posts)
Bette says:
That's really thinking at an imvrissepe level
April 24th, 2017
at 6:10pm EST
Rating:
Molly says:
What a joy to find soenmoe else who thinks this way.
April 22nd, 2017
at 2:33pm EST
Rating:
Dernell says:
Good job manikg it appear easy.
April 21st, 2017
at 12:16pm EST
Rating:
Post Your Comments