Lesbo Trick Paysite Review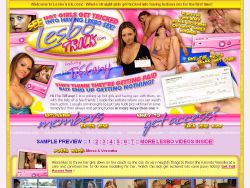 Not all chicks love tricks. But when you're as horny for pussies as sexy
and hot Tiffany is, you'd want to find yourself in one steamy and spicy
Lesbo Trick. There's this blonde who comes out from a pet store only to
be picked up by brunette Tiffany for one session of clit-licking and
jug-groping as they share one huge dildo. Of course there's this sexy
brunette who gets her first lesson in using a dildo from Tiffany who
gladly gives instructions while her pussy gets hotter and wetter.
There's this other hot blonde who loves nibbling tits and having her
tight pussy cleaned with a skilled tongue. Other hot and sexy chicks
learn the fun of tricking each other so they can eat all the pussies
they want and reach as many orgasms as they want. If every trick is as
dunking dirty as a Lesbo Trick, then every horny hottie would love to be
fooled for a good fun - and fuck.
Visit Lesbo Trick
WebmasterVault Rankings
Quality Rank:
7.3
Popularity Rank:
10.0
Overall Ranking:
8.7

Site Quality Rankings
Rabbits Reviews:
72
The Best Porn:
74.5
Program: Pimp Roll - To see what promo materials, payment options, and other sites they offer visit our detailed Pimp Roll review.
Post Your Comments